The Bondage Room where you start your journey and experience what it feels like to be totally helpless and vulnerable. Trying to escape is futile !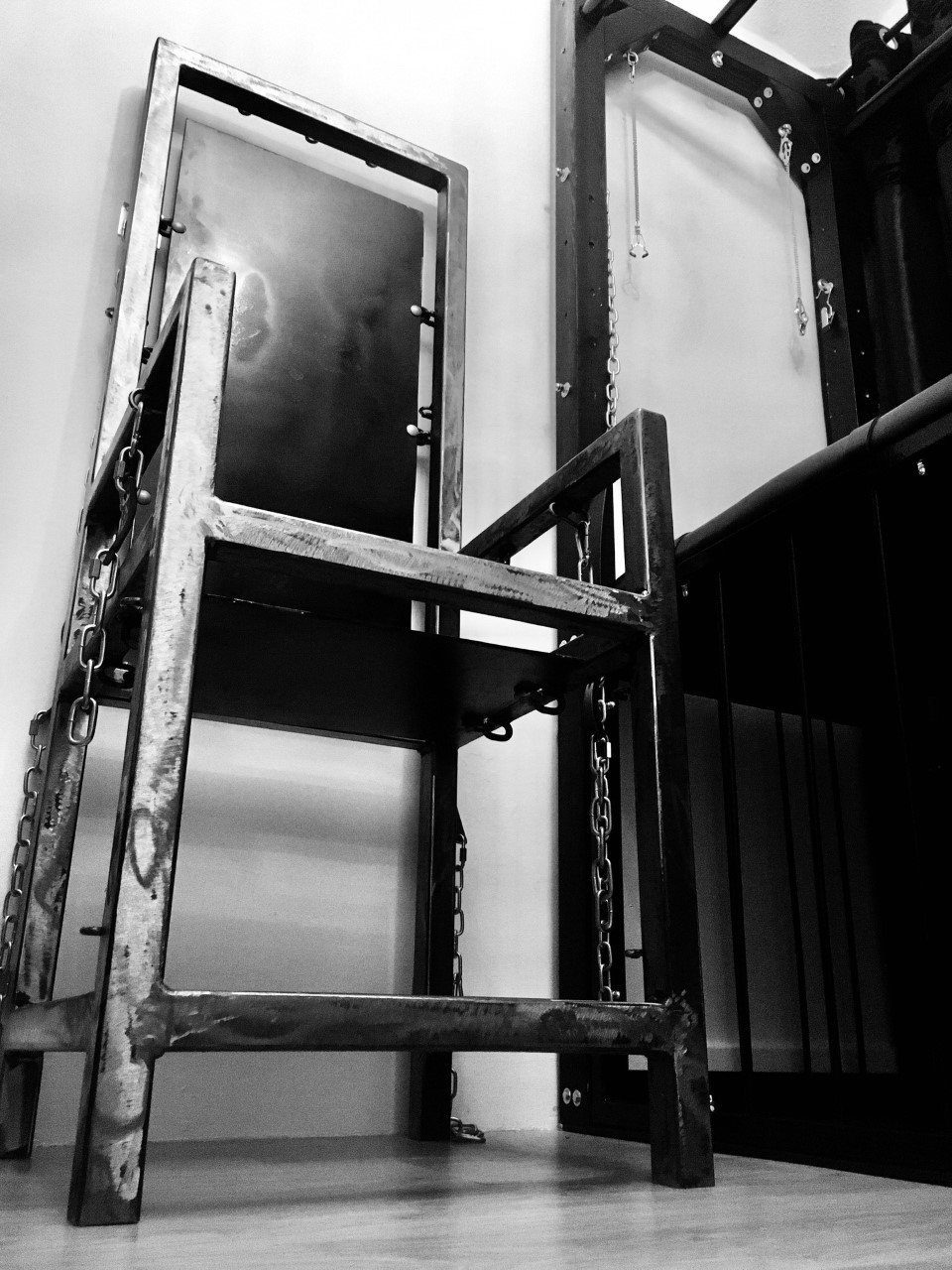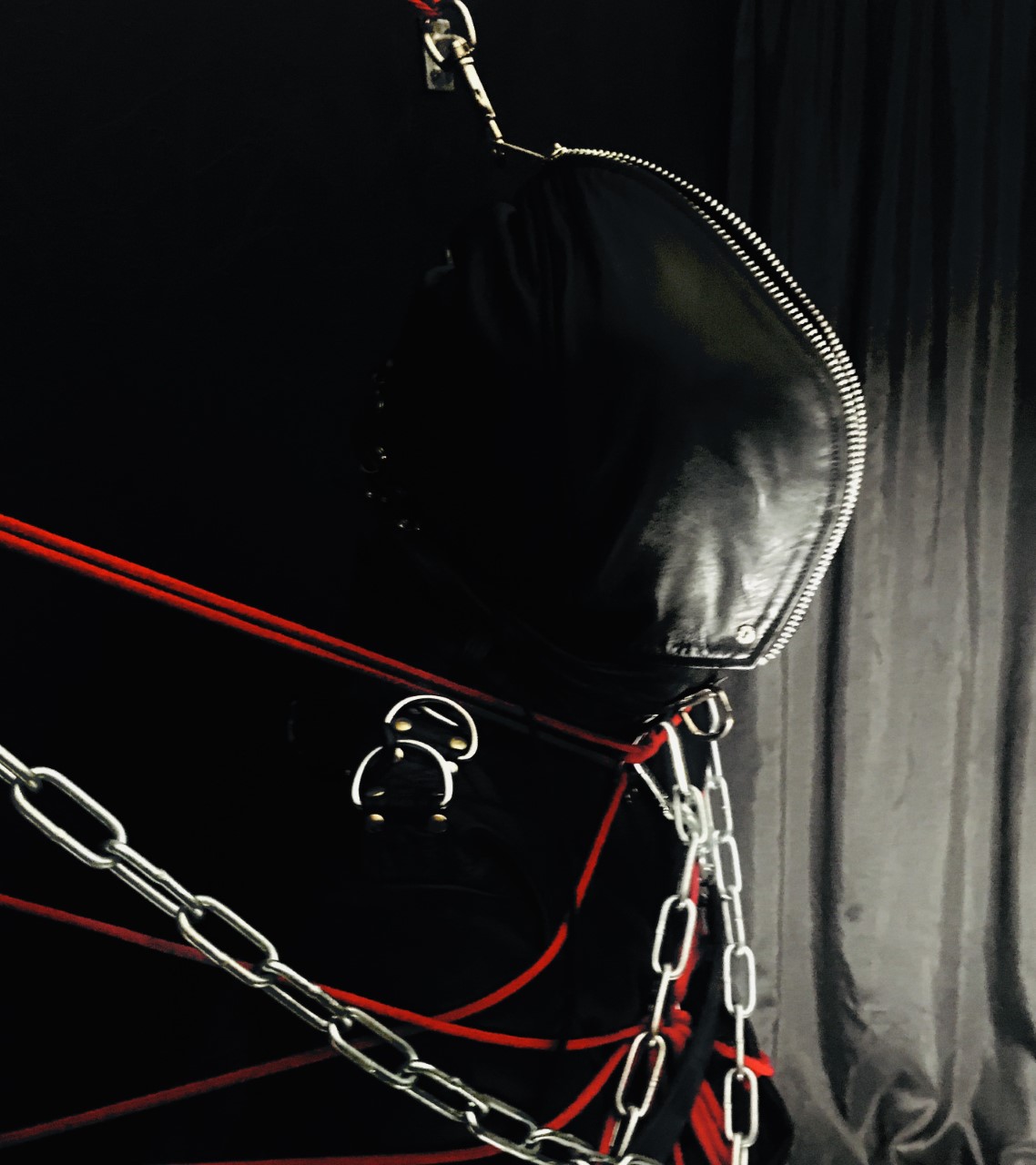 THE ROOM
The equipment consists of a very large heavy duty 7ft long metal/leather made bench with a large underneath cage, complete with 3 suspension bars overhead to put my subs in even more bondage. There are large black leather bodybags, black leather straitjackets, leather mitts, leather cuffs/collars/head harnesses/hoods and 10 different gags, 10 pairs of nipple clamps, electrics (for nipples only). and a huge hand forged metal bondage chair (perfect for breathplay).
Breathplay hoods & sensory deprivation hoods.
Bagging hoods & over 50 pairs of leather gloves.
In this room you can be left gagged and bound for up to 24 hours.

BEGINNERS INTRODUCTION SESSIONS
I believe everyone starts somewhere with their fetish and as time goes on things progress and you feel more comfortable to explore things further.
Wanting to explore things more comes in time with getting to know and trust your Mistress (myself), as some of the subjects I cater for require lots of skills and careful planning. So my job is to get you relaxed with your surroundings and introduce you slowly to things and, as the months go by and we meet more, you find yourself in no time at all in full leather or rope bondage and at my mercy but knowing you are in safe hands.
All aspects of BONDAGE & BDSM are about trust and respect and SAFE PLAY.

BREATHPLAY & HOODS
I have a big selection of different leather hoods/gas masks.
Some are made for mild sensory deprivation and mild Intox play while other are for extreme play and total enclosure.
I have gas masks with hoses that are perfect for Breathplay/smokingfetish/Intox/Poppers play and for all level of players. I have been doing breathplay sessions for 15 years and I know exactly what I am doing and I know when to push someone's limits a bit further and when to stop.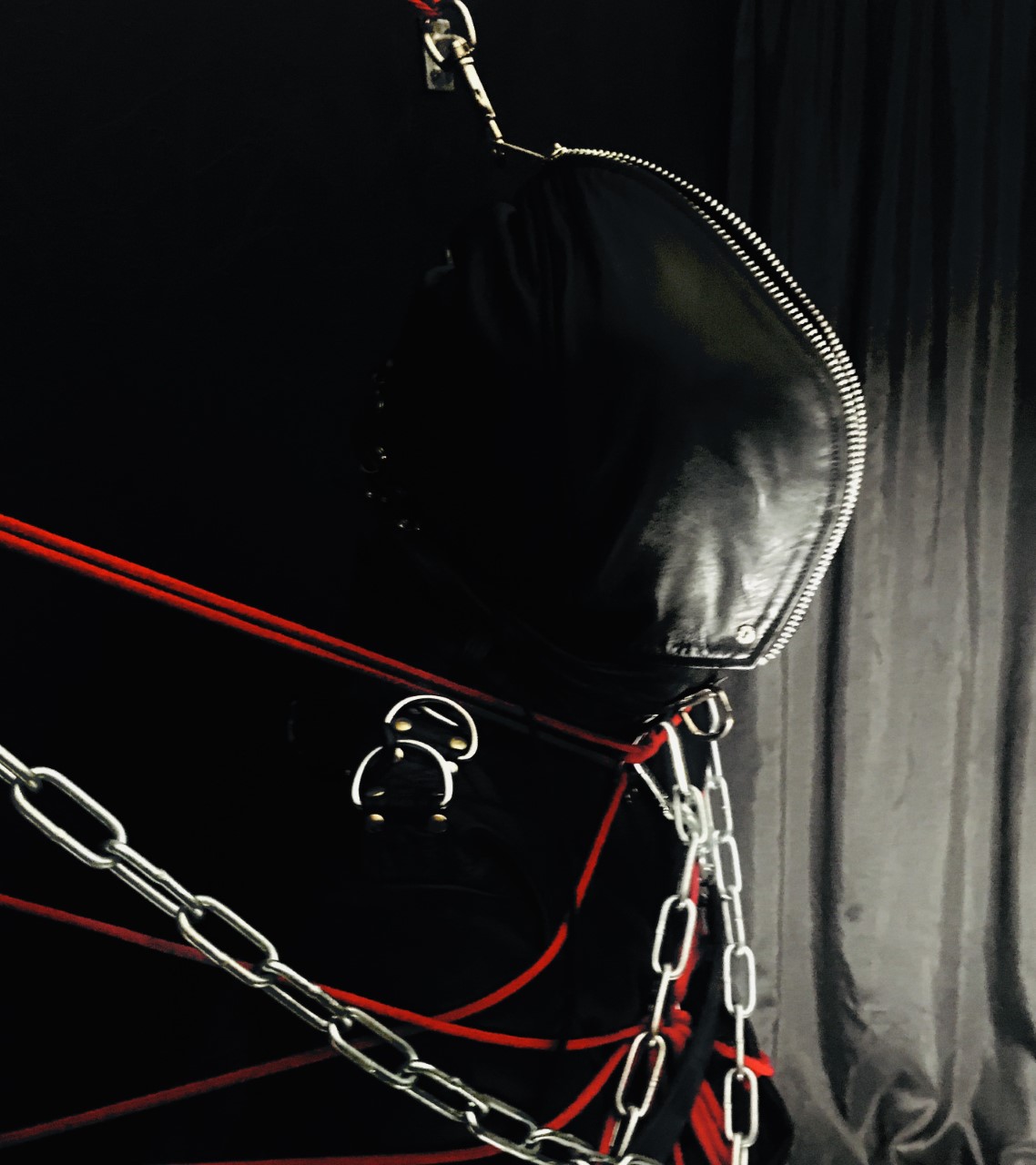 GAGS
I find gags the perfect way to keep subs quiet and also help in breathplay. With many different types of gags to fit all mouths I will always have something for everyone.
My gags have many different uses, from making my subject's jaw ache as part of their bondage punishment to smoking fetish where some gags are used to keep my subject's mouth open at all times for me to blew smoke into their mouth or to force them to consume my ash and butts (human ashtray play).
Some are used underneath hoods to make my subjects feel more confined and helpless, as not being able to make much sound adds to the intensity of a bondage session.
Metal dental gags (Jennings gag) is great for those who also have a metal fetish attraction and heightens the vulnerability of having to keep your mouth open at all times. A Jennings gag allows me to open your mouth wider and wider.


INTOX. POPPERS. SMOKING FETISH.
Intox is a session where you inhale poppers (amyl nitrate) either
via it being soaked in cotton wool or via it at the end of a hose
on gasmask in which i have a special hose made purely for
INTOX which allows the liquid to be in a clear glass bottle
safely and allowing you to inhale the aroma .

WHAT DOES POPPERS /AMYL NITRATE DO .
Poppers gives you a light headed feeling that only lasts a few
minutes at a time but it can be administered easily on and off over
hours .Watching your every move and seeing your blissfully drift into
a another realm and if you mix this with gasmasks or breathplay you
will have an amazing euphoric experience that you will want to
repeat over & over again. The effects of this will all be gone by
the time your session is over and the effects do not last long .

RESTRAINTS
I have many restraints that come in the form of leather hand & ankle
cuffs to solid metal handcuffs and ankle cuffs. Along with this i also
have a great selection of metal,leather collars and posture collars.
I have two rooms that have various wall restraints and floor restraints
that mean you can be spread eagled standing or laying down and in the
second room there is a massive heavy duty bdsm bench with a large
7ft metal cage underneath to further restrain .
This perfect for long extended periods of bondage ,where you can be
left gagged and bound for 1 hour to 24 hours and if you want to push
your boundaries further then i can place you tightly into a heavy duty
strait jacket and then to make your impending bondage situation
worse i will then also place you into a large heavy duty leather body
where the only thing free is your head but even that can be covered
with a leather hood (an added extra with a gag on underneath to ).

BODYBAGS & STRAITJACKETS
I have two amazing heavy duty leather strait jackets that are perfect
for those of you that love to be in bondage but do not like complete
head to toe bondage and this if perfect for a beginners sessions .
I also have a large heavy duty leather body bag that does up up to
the neck ,it zips and also has 7 straps to secure you further but i
can always add more straps,rope or chains to further encase you .
There will be NO escape !

NIPPLE CLAMPS
You will be in nipple torture heave as i have a massive collect of 10
pairs of different clamps to suit everyones tastes from beginners
to extreme players and i can always make this torture much more
intense by tying the clamps above you so every time you move you
pull on your clamps making the experience more unbearable .
And remember the clamps can really hurt and after 15 minutes the
pain gets worse and worse but worst to come is when the clamps
come off ,as the blood rushing back into your nipple tripling the
pain and sensation .

SENSORY DEPRIVATION

BONDAGE – HOW IT FEELS


SPECIAL EXTENDED BONDAGE RATES:
3 hours=£300
6 hours=£500
12 hours=£800
24 hours=£1200 (all include a deposit)