Both Mistresses are available (with notice) f

or Double Domination Sessions.

Some of Lady Godiva's practices are a little different from mine thus w

e both have a mutual agreement and we respect one another's differences but when we are together we are a perfect match and we are both expert caners, role-players and leather-fetishists. We can both by request offer double smoking fetish too (but request first) as we are both very part-time smokers now but we are still happy to indulge in a sub's smoking fetish and Intox fantasy. The perfect double domme session is only achieved when both mistresses are great friends and get on great as we both do. Our sessions are cruel and strict but also fun.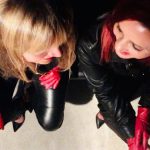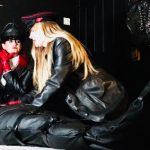 When In session together we both offer the following…
* new : a fully equipped schoolroom (holds 1-9 pupils)
* ROLE-PLAY & CANING
* Caning (at all levels – beginners are welcome)
* Corporal punishment
* Regression
* Cold caning
* OTK (over the knee spanking/hairbrush/paddles)
* Role play (as realistic as possible)
* Hand spanking
* Humiliation / sph
* Mouth soaping
* Tawse, cane, belt, slipper, paddles, strap
* Key words & triggers
* Face slapping
* Shouting / no shouting
* Whispering in ear / ear pulling
* Bastinado / falaka / foot caning/whipping
* Verbal / swearing/non-swearing
* Home work, dice/card games
* Detention, lines, corner time
* Leg/foot worship / stockings/nylon fetish
* boot fetish / shoe fetish
* Smoking fetish (by request only)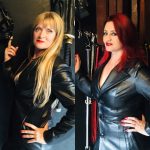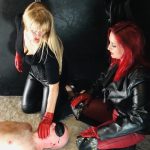 NEW NOW TO MY CP ROOM ARE LEATHER IMPLEMENTS MADE BY LONDON TANNERS (STRAPS, TAWSES), THESE ITEMS ARE EXQUISITE AND OF OUTSTANDING QUALITY AND WITH A REPUTATION FOR VERY MEAN STRICT CP SESSIONS (NOT FOR THE FAINT HEARTED). ITEMS ARRIVING EVERY WEEK.
A NEW COLLECTION ARRIVING MARCH 31ST 2020 FROM McHURT WITH LOTS OF FANTASTIC NEW ITEMS TO ADD TO A VERY HEAVY DUTY COLLECTION.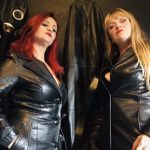 IF YOU ARE A SMOKER PLEASE BRING A TOOTHBRUSH, AS I DO NOT LIKE THE SMELL OF SMOKE ON PEOPLE WHEN I'M CLOSE TO YOU TELLING YOU OFF.
DOMINATION – sessions include subjects below:

* LEATHER FETISH / LEATHER WORSHIP
* GLOVE FETISH
* BONDAGE CAGE / BENCH / RESTRAINTS
* METAL BONDAGE CHAIR
* LEATHER STRAITJACKETS / LEATHER BODYBAG/SLEEPSACK
* LEATHER HOODS / LEATHER RESTRAINTS
* GAGS (15 DIFFERENT ONES)
* METAL FETISH / METAL GAGS / METAL CUFFS/COLLARS
* BONDAGE COLLARS / POSTURE COLLARS / HEAD HARNESS
* Breath play
* Forced intox
* Electrics (on nipples only)
* NIPPLE CLAMPS (10 DIFFERENT PAIRS)
* Puppy play
* whipping
* boot fetish / boot worship
* Foot-fetish / trampling
* Spanking / bench/restraints
* chastity (you put it on). long term chastity: bring
your own device; we keep the key.
* Sissy maids/f-fem
* Ballbusting kicking (no cbt)